Introducing Happy Atoms
The physical and digital teaching tool that lets you discover the world of molecules in an intuitive, hands-on way.
Get Happy Atoms
Discover the World of Molecules
Create molecules from plastic atom models that connect easily using magnets.
Discover the identities of the molecules you build by scanning them with the app.
Explore the molecules you discover, assemble collections of them, and complete guided chemistry tasks in the educational app.
What People Are Saying
I probably would have learned a lot more in high school... if I had a 3D view of the atomic world.
Happy Atoms will be the perfect gift for the budding chemist in your family.
I learned more about chemistry in 10 minutes than I ever did in a college level course.
What may start as a random combining of various atoms turns into a game of discovery.
Happy Atoms... promotes independent play by letting kids figure out new combinations of atoms by themselves.
I'd love to see a set of these in every chemistry classroom around the world.
5 Stars! I really enjoy the game. It is a fun and immersive game with hundreds of different combinations. The app is easy to use and the set is high quality. Really great game.
... a LEGO-like approach toward teaching chemistry, eschewing the boring and confusing traditional algebra-esque approach.
I liked most... that it had the valence electrons and the bonding sites already there for the students.
Great tool for any home school, classroom or chemistry fan.This is so easy and quick and the app is a huge bonus. Definitely worth the money.
I liked the way that it was set up and easy to figure out. I like the way that it is a free-roaming game, and durable too. There are not enough to have 3-4 people play with one set. I wanted it to myself!
Money WELL spent….promise to spread and share with my friends. Thank you for making this the best X'mas present (he had already told me multiple times) ever.
Thank you for a very nice (and new) way to model and make chemistry fun.
Definitely one of their favorite tech resources so far this year
If you're into hands-on science education, you NEED to check out Happy Atoms.
Who's Using Happy Atoms?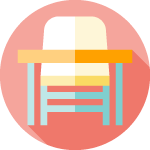 Happy Atoms is geared toward students in middle school.
Younger students can use Happy Atoms to jumpstart their chemistry education, and older students can use the system to make chemistry more tangible, visualize complex molecules, and reinforce their chemistry studies.
Features
The App
Molecule Scanner

Scan and identify the molecules you build using your device's camera. They are then unlocked on the molecule map.

Molecule Map

Chart your own personal chemical expedition. The map of the World of Molecules brings each one of your discoveries to life.

Molecule Examination

Take a closer look at the molecules you create. Explore each molecule's composition, systematic name, and how it exists in our world.

Harper and Andee

Form bonds with your fellow colleagues. Rookie chemists Harper and Andee join you on your journey, offering help along the way.

Guided Research

Find the right molecule for the job as you work together with Harper and Andee to conduct over 50 different educational research experiments.

Step-by-step Assembly

When you need help assembling a specific molecule, step-by-step assembly instructions can be accessed through the molecule map.

The Nucleus

Cruise the molecular landscape in style aboard "The Nucleus," your own research vessel, to see your progress.

Periodic Table

Learn more about the atoms that make up the Happy Atoms modeling set by checking them out on our slice of the periodic table.
Molecule Scanner

Molecule Map

Molecule Examination

Harper and Andee

Guided Research

Step-by-step Assembly

The Nucleus

Periodic Table
The Models
Plastic Sphere

Represents nucleus

Magnet

Represents bonding site

Metal Tip

Represents free electron
Atomic Symbol

Plastic Sphere

Magnet

Flexible Arm

Metal Tip
Mat and Manual
Happy Atoms sets include a poster that is white on one side to provide an optimal scanning surface for the molecules. The periodic table is printed on the other side. The sets also come with a quick start manual. The Complete sets include a drawstring storage bag.
These are the building blocks of the universe. Let's build it!
Knowledge of chemistry is necessary to solve many real-world problems, but the way chemistry is taught now often fails to capture students' imaginations, discouraging experimentation and discovery. Happy Atoms aims to change that by offering a chemistry learning experience that sets itself apart.
See the difference between elements

Feel the forces that bond them together

Experiment with ways to combine them

Discover the relationships between them
Together we can help everyone discover the real-life wonders of chemistry!
Get Happy Atoms